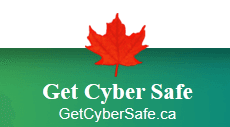 October is Cyber Security Month and to kick things off the Canadian Government has launched a new website call: Get Cyber Safe. This is a site focused at education people on the dangers of fraud, viruses and other Crimes that take place on the internet and local networks.
The Good:
There are a number of solid recommendations on this site and some great tips for newbie users around things to watch out for – These are great tips for my Grandparents who are still working on their internet training wheels (at 80+ years old!) Note: Send link for getcybersafe.ca to Grandma. Tips and reminders about the importance of data backups, the importance of your online reputation to future job searches and your social network profile, and securing your home network from War Drivers also make an appearance on the site. Parents will also find a great resource to assist in educating their children about the importance of internet security and personal privacy, this information is a good review no matter who you are.
The Bad:
The site lists out common threats that users face on a daily bases, but offers little in the way of helping users resolve these issues – for example the page on Botnets explains in easy to understand language what a botnets are and why they is dangerous, but offers no advice on what to do if you think your computer is infected or participating in one (Note: Prepare to be tech support to Grandma).
This is the second site recently launched by the Canadian government, after the Canada's Anti-Spam Legislation website was published earlier this summer, dealing with the threats faced by consumers online. It also ties in nicely with the recent initiatives surrounding Privacy Education for Students (we talked about this last week).
CBC News also published a Q&A with a Local Cyber Security expert "Cyber security Q&A: How to improve your online safety" which is worth a read as Dave Lewis describes some of the biggest security flaws in your personal or business networks.