Guest post by: Sanket Jain
You may have heard about the new Gmail Labs Smart Labels feature offered by the Gmail team to their adventurous users. If not here is a brief over view of the new latest experimental feature now available to Gmail users. If you have tried the Smart Labels on your inbox, let me know your thoughts in the comments, have your experience been the same as mine?
Once activated, Gmail will automatically categorize all new incoming mail into four categories: Bulk, Forum, Promotion and Notification. Incoming mail that gets a Bulk or Promotions label gets automatically archived (this is a feature you can turn off in the UI but it is on by default when enabling Smart Labels) while the Forum and Notification mail gets labeled and remains in the recipients inbox. From a user perspective. It is a fairly good thing because it would help people in reducing the clutter in their inbox and focus on more important mail. From a Marketers perspective – your going to have to work a little harder to get readers to open two additional folders.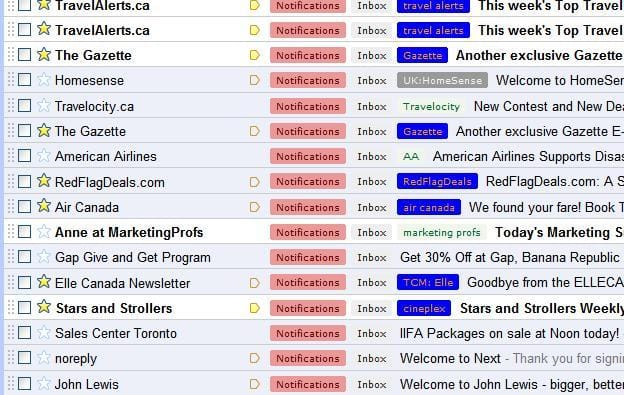 How accurate are they?
Once I activated Smart Labels in one of my accounts where I get an average of 35-40 commercial mail every day. It looks like a good start but may need some improvement along the way. I had many 'bulk' messages mislabeled as Notifications in my inbox. I expect that Gmail will work on these and iron out the creases by accepting user feedback on misclassified messages (under the reply drop down there is a "Report Classifications" option that sends a copy to Google for review).
Smart Labels: a boon or a bane?
I feel that features like these should make marketers think about their programs and take a look at their email strategies. Following best practices like sending relevant content to the right people will be the way to go forward. But I don't predict a sudden fall in open/click rates because Smart labels are still a Labs (beta) feature and many users will never actually enable it. Having said that, this might as well raise the bar for marketers in coming days and this will be the time when exceptional marketers would separate themselves out from the good and the ordinary ones. Plan ahead carefully.
About the author:
Sanket Jain is a recent marketing graduate, working with Emailkarma.net founder Matt Vernhout. Contact him via twitter: @sanketjn