After 2 months of evaluating and collecting feedback on their Social Advertising program, and a media storm over the last couple days, Ryan Roslansky – Director, Product Management at LinkedIn posted on the Linkedin blog some important clarifications and changes regarding Their Social Advertising program.
These Clarifications include:
1 – Changes were announced in June (when we wrote about them) and an ad program was launched within the network to educate users of the new features. I didn't see these ads… Did you?
2 – Private information from your account was never shared with with 3rd parties, only information you make available to your network publicly was used.
3 – Easy to use opt-out – One click – After you found the location to click (at least 3 clicks to get to that location)
Ryan also went on to clarify that the new direction for social ads will be to only show you the number of connections in your network that "follow" a specific advertiser now and no longer show names and pictures along side.
EX: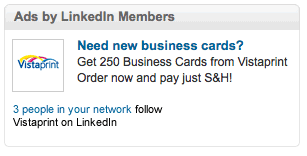 Long story short – its good to see a company list, but thinking about people privacy first and opt-ing in users prevents a media backlash.