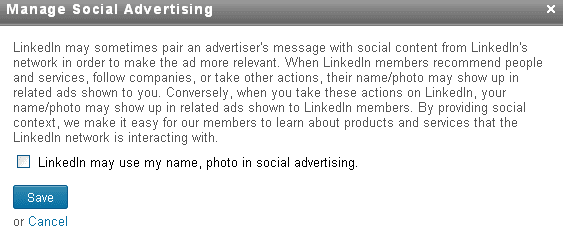 Linkedin appears to be taking a page out of Facebook's playbook with the introduction of in network Social Ads. With a very light introduction to the concept by means of a Privacy Policy update (I read the update and missed the notice) and a posting about the new service yesterday "Ads enhanced by the power of your network".
Much like Facebook, and many others who have gone this route in the past, LinkedIn decided to move forward with Social Ads on an OPT-OUT bases – meaning you are participating right now even without knowing it. I'm not much of a fan of anything OPT-OUT as it assumes you know what the recipients wants to do and how they want to do this.
Don't get me wrong I understand that for many these social services are giving participants a free ride to use these services (aside from lots of eyeballs on ads – so is it really free?), and that asking people to participate in these types of programs will likely result in less participation – making the decision for a consumer/user to share additional information without their consent just rubs me the wrong way.
If the idea of sharing this additional information bothers you here is how you can opt-out:
Go to Settings
Select Account
Select Manage Social Advertising
Uncheck the LinkedIn may use my name, photo in social advertising option
If you think I'm being unreasonable about the whole assumption of permission – please tell me why. I'd love to hear your side of the story.