The iPad 2 news is still so fresh I have not even finished reading about all the new bells and whistles listed in the product FAQ sheets.
But alas those who prey on the public in the Social and Email Marketing space, those bad apples looking to exploit your brand and the recipients of their evil messages, are already here and working their anti-social powers.
Just hours after the announcements I have started to receive these wonderful Pitches via Twitter…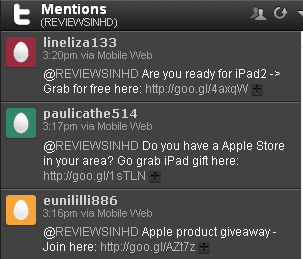 … sadly email is likely already in the works and not far behind.