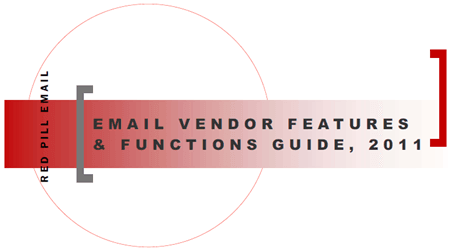 I've been patiently waiting for this day for the last week or two, ok maybe not too patiently ;), after hearing from John Caldwell (Founder at Red Pill Email), and getting a participant sneak peak at the results, that Transcontinental Interactive's [1] email solution Thindata EMS scored so well in the Red Pill Email 2011 Vendor Guide, with a fifth place finish overall.
The 2011 email guide builds on last years success by offering impartial the coverage of over 200 questions, directed at 28 North American email vendors and technology providers, and by adding a separate EU guide, with the Email Vendor Selection team, for localized region support (However remember most email vendors work internationally to delivery email).
About the Guides:
The 2011 Email Vendor Features & Functions Guides from Red Pill Email drill deeper than the 2010 edition asking over 200 questions of 28 email vendors that range from small market vendors to commercial MTAs and points in between.
The 2011 guides come with a Decision Matrix application that allows the user to weight different features and functions in identifying the vendors closest to their requirements and needs. Using a binary process and proprietary algorithms the Email Features & Functions Guide Decision Matrix, from Red Pill Email, is designed to reduce subjectivity when comparing vendor capabilities.
If your in the market for a new email vendor or your just curious to see what's out there – go grab this guide and get the impartial truth from the Red Pill Email team.
Guide Costs: NA Version – $500 UDS, EU Version € 400
[1] Disclosure: My Employer